Lake Havasu PCC Seminar, aimed at trailerable multihull market but with many videos and photos, so similar to article 6 below
This is the transcript from a seminar I gave at this event entitled "Multihull Sailors Have More Fun!"

Lake Havasu is just south of Las Vegas, Arizona USA and is a man made lake in the middle of the desert. The Havasu Pocket Cruiser Convention is a week of sailing/racing/meeting/talking and in 2012 was enjoyed by nearly 200 boats and 400 people.

Note: Some of the videos on this page were edited (usually just by shortening) for my seminar

+++++++++++++++++++++++++++++++
I am Richard Woods of Woods Designs and I'd first like to apologise for the quality of some of these slides and videos. Many, like this one,
were taken long ago. And as you'll quickly find, although I am an enthusiastic sailor, I'm not a very good public speaker
However, I have always been interested in sailboats and the sea, I don't know why. I have been sailing for over 50 years and I have been specialising in the design of sailing multihulls for over 35.
So yes, I'm clearly biased in favour of multihulls, but as you'll learn, unlike most multihull fanatics, I have also done my share of monohull sailing. So I do have the experience to make valid comparisons between the different boat types.
This was my first boat, a little catamaran my father built for me when I was 5 years old. It was followed by my first real boat, the 8ft long Poole AB.
In 1965 my father had a 14ft plywood West Wight Potter built by Stanley Smith, it's designer. We cruised the Solent and also trailed it to Wales.
Stanley first found fame when, in the early 1950's, he sailed across the Atlantic in an open boat with his dinghy lashed upside down to cover the hole. He lived near us at the west end of the Isle of Wight off the south coast of England, where the local lobster fishermen used a boat with an exaggerated sheer to make it easier to haul their pots. So now you know where the Potter name came from. (Note to readers. There were about 30 Potters at the HPCC)
A few years later we had a 11ft Mirror dinghy, something like this
We raced it a lot, but also cruised it round the Swedish islands and along the French Atlantic coast, usually with 2 adults and 3 children, oh yes and a dog.
So for 15 years I primarily sailed dinghies, but I also raced 1/4tonners and other small monohulls in the Solent and English Channel
I first sailed a multihull in 1976 and since then I have cruised and raced in over 40 countries and built and owned 18 different multihulls. The biggest was 35ft long, yet, as you can see, it was still trailable.
I have now made five Atlantic crossings, including one on a 53ft monohull, and spent the last 10 winters cruising Europe, the Caribbean,
the Bahamas
and on to the San Blas islands,
which as you can guess is our favourite place. Then through the Panama Canal
to the Pacific.
However I am not a fan of large boats. For I always say you should buy the smallest boat you need, not the biggest you want. For as we all know, smaller boats are more fun to sail, simpler to run and cheaper to buy and maintain.
I have always preferred day sailing in small boats to racing offshore. I have raced in numerous UK and European Championships, winning one European and four National titles.
This is a sister ship to the boat I raced when winning one Nationals. Another sister ship sailed single-handed across the Atlantic, so it isn't just a day racer
25 years ago we did a similar 500m run at 16.6 knots in our plywood catamaran Gwahir.
I saw it again just a few weeks ago. 30 years old, it is probably the oldest of my designs still in commission even though it was built in unsheathed 3/16in plywood
Although most of my sailing has been on the sea I do occasionally sail on lakes. One unforgettable time was racing a 24ft Strider catamaran on Lake Kariba in Zimbabwe
Much like here in many ways, except the wild life was exactly that. I was told not to walk more than 50ft from the boats when I went ashore.
Ever since that trip I always say "The only time I want to see a lion is in a cage".
Of course as we were racing it wasn't a question of "Oh! look an elephant, let's go see", but more a question of "he's just altered course, we'd better tack to cover". But sometimes we got lucky.
While this hippo shared an anchorage with us for a couple of nights
Apart from the wildlife, the other difference to Lake Havasu is that, although Lake Kariba also has a dam at one end, it has this at the other.
But I don't just race. I have sailed the Intercoastal waterway on the east coast seven times, I've been to Key West and as far north as Bar Harbor, just 30 miles short of the Canadian border. I have also cruised on monohulls for almost the whole of the western seaboard from Juneau, Alaska to Cabo St Lucas, Mexico. So I have almost sailed to all four corners of America. I have actually anchored in every coastal US state except four, and I hope to sail in those next year.
While my longest cruise on a trailable catamaran was from Plymouth, UK to the Soviet Union in 1989.
Three 24ft Strider Club catamarans, each sailed singlehanded, were daysailed over 1400 miles each way, visiting seven different countries.
One reason for making the trip was to show that small boats could be comfortably and reliably sailed on long coastal cruises. That's why three of us went, and why we had a boat each.
We were the only foreign catamarans ever to visit the Soviet Union. Even when sailing that distance the longest trip we made between ports was only 70 miles, and we never sailed at night, there was just no need to. So we weren't worried by the "day sailing only" requirement stipulated by our insurers. Mind you, I don't think they realised that at 60 deg north it doesn't stay dark for long in mid summer.
The video you saw at the beginning is of that trip and I'll be using more clips from it as I talk
I started designing multihulls in the days when they were usually home built and owners were considered part of the lunatic fringe. Over the years, that has changed as more and more sailors have realized the advantages of multihulls.
Unlike most designers, who have concentrated on luxury cruising and charter catamarans, I have continued to expand my range of trailable multihulls, so I now have 3 trimarans and 14 catamarans in the 14ft to 30ft size range. I have sold nearly 2500 sets of plans and over 200 production catamarans worldwide.
It was partly as a result of all this experience that for over 20 years I have been the small boat and multihull expert on the International Standards Organisation which decides the stability standards for all recreational vessels worldwide.
=====================================
OK that's enough on me - lets make a start shall we? Let's talk about multihulls and why multihull sailors have more fun
How many of you have sailed a beach cat like a Hobie? How many of you have chartered, or maybe thought about chartering, a catamaran in the Caribbean?
Very different boats aren't they? Yet they are both multihulls. You know that even small monohulls come in all types, so you don't compare a Melges 24
to a Dana 24
Equally you shouldn't group all trailable multihulls together, especially when at first sight there seems to be a bewildering variety to choose from. However there are actually only three main types.
First is the open deck catamaran,
looking something like a big beach cat and with accommodation only in the hulls. These are popular as they are easily trailed, have lots of deck space and are usually cheap to build. This is a sister ship to the boats we sailed to Russia
Many people use a tent for more undercover living space when cruising on these boats. It helps avoid the railway carriage effect that a narrow hull gives, as it allows people to sit opposite each other. That's important, for sitting round a camp fire is one of the oldest social activities we have.
We fitted a groundsheet in the cockpit that extended up the cabin sides, so no rain water could run down. It was very successful and we never had a wet living area, even when anchored in gales and driving rain. We deliberately kept the tent as low as possible to reduce windage when anchored. You can see that rather than have a boom tent, we prefer to have a separate tent pole so we can raise the boom up high and out of the way. We did once try sailing with the tent up, but it was a bit slow and not really practical.
So, although you are sheltered from the weather and from prying eyes, a tent does make it more like camping than living in a RV. So the second type are the catamarans that I call cuddy catamarans
where the accommodation is in three distinct areas: the two hulls plus a central deck cabin, which usually contains the galley and a saloon.
Although the drawback is that you have to go outside to visit the heads or the single bunks, the gain is extra privacy. Children have their own hulls, separate from the parents. It's also an efficient use of space and helps keep the cockpit dry when underway.
There are a few trailable, full bridgedeck cabin, catamarans around, mainly in Australia, but, as they are limited to 8ft 6in beam, they have very little stability and are not boats I consider seaworthy enough to take to sea, but are a feasible option for sheltered water sailing, see my Saylon design.
Having said that, there is this 16fter
It isn't Australian though. It was built in British Columbia.
It was cartopped down to Mexico. From there it sailed to Nicaragua, across its lake and down the San Juan river to the Caribbean and then on to Cuba and Florida.
And then of course there are trimarans.
These tend to be faster than catamarans in light winds and to windward. That's because they have less wetted surface area than a catamaran.
Conversely they are slower off wind and when sailing in big waves. That's because it's main hull is fatter than the narrow hulls of a catamaran, which means increased wavemaking at speed.
Although there are three hulls, only one can be used for accommodation, so a trimaran is more expensive and time consuming to build, yet has less interior room than a catamaran.
The most popular trailable trimarans by far are the Farriers,
either home built or bought from Corsair Marine. Ian Farrier invented a brilliant folding system so that even his larger designs can be trailed, which I'll show you in more detail later
His boats have great speed but like all trimarans they have a small cockpit
and even less interior room than you get in a monohull of the same length
As you all know we are here with our Strike 18 trimaran, so I'll digress slightly to talk about why we built it.
You may still be lumping all multihulls together, but believe me, adding an extra hull changes the whole ball game, whether your going from one hull to two, or from two to three. I have been sailing catamarans for 35 years so why on earth would I now sail a small trimaran??
These days we spend more time day sailing instead of living on board and cruising the oceans. In fact this last Christmas was the first one in 10 years that we didn't spend on a boat. So a smaller boat now suits us better. The problem with open deck catamarans is that they are "sit on" boats, and that gets uncomfortable after a time, although I didn't used to find that 30 years ago. A trimaran, on the other hand, has a deep cockpit like a monohull, so is a "sit in" boat.
This video shows us on our second sail, and before we had fitted the trampolines and cockpit cushions. Jetti might not be into speed, but she still likes having fun steering on a sunny day
So a small trimaran makes a great daysailer. And that's how we have used our Strike for the last three seasons. We are now making a removable cabin, just like the Potter had, so we can spend a night on board if we want. Unfortunately we didn't get it finished in time to bring here.
The Strike was designed to use parts from a beach cat for the rig and outriggers. This isn't a new idea, I worked on similar boats over 30 years ago.
But I think that now it's time has come. We all know how expensive a new rig can be, while there are thousands of old beach cats sitting unloved in peoples back yards. So why not give them a new lease on life? So that's what we did. In fact I was tempted to call our boat Bits and Pieces rather than Strike. That's because it has outriggers from one beach cat, the mast from another and the mainsail from a third, while the jib is over 40 years old. Maybe it's the oldest sail here?
So the only part we really had to make was the main hull, which used just 11 sheets of 1/4in plywood and a couple of gallons of epoxy. And it was all easy to make in our garage. Total cost to launch was under a thousand dollars, including the basic rig.
So after that brief introduction I'll start talking about some specific differences between multihulls and monohulls
Windsurfers and kite boarders are fast aren't they? I actually saw the first windsurfer ever to do over 30 knots. In fact I was driving a car along the beach road at 30 mph and he overtook me! Someone has done 60 miles an hour on a kite board.
I thought you'd like that introduction to speed. I want to get speed over with first, as it shouldn't really be trailable multihulls main selling point. Even so, most multihulls are advertised as being "fast" because many people are easily seduced by the thought of more speed. Having said that, trailer-sailer multihulls ARE typically twice as fast as the average small monohull, or, to put it another way, you can get there AND back in a day. However, sheer speed is not the main reason we go sailing, for if we really wanted to get somewhere in a hurry we'd use a powerboat.
I like this photo. You can see the 24ft Strider to the left, then a 35ft Banshee and then the 80ft Shuttleworth racing catamaran. We were racing and this was the end of the first lap, so, as you can see, we were all going at the same speed. So you don't need a big multihull to go fast.
Here's a speed example that will be familiar to many of you sailors from the LA area. Catalina Island is 30 miles from Marina del Ray. Who's done that trip? How long does it take you?
How about 3 hrs 20 min on this Wizard catamaran.
As you can see there wasn't much wind, in fact it never really got much over 10 knots. Even so, this readout from the gps
shows we were averaging 13 knots for some time.
I'll just digress again and say a bit more about my Wizard design. The Wizard is a 22ft trailable boat that has 5 berths in three cabins, standing headroom and at least a 15 knot boat speed.
When I designed it 20 years ago I called it revolutionary, and you can see why in this launching video. Now I know that this video is not actually of a Wizard, rather it is of my 20ft power cat, the Skoota. However the folding principle is the same.
We built both our Skoota and Strike in British Columbia, where we have a summer house on Saturna, which is one of the smaller Gulf Islands, only a mile from the US border
This is the beach which we also use when launching our Strike. This was the first time we ever tried launching the Skoota, our old trailer is a real lash up, and that's why we are being very cautious as we let it roll into the water. A soft mud bottom didn't help. Then the trailer winch broke, well I said it was an old trailer, so we couldn't lower the trailer as planned. Instead we had to back the trailer in to its full depth
Basically the idea is to let nature do the work. When launching, the hull buoyancy opens the boat out. I think you'll agree its not really the time that you want to reduce, it's the effort involved. When retrieving it gravity folds the hulls, sometimes very quickly.
This boat was later trailed from British Columbia to Belize, but on a different trailer of course. The hinging system is much simpler than the Farrier method, but it's easy to rotate all the same.
There are three single bunks plus the toilet in the Wizard hulls, while as you can see there is lots of room in the cuddy. It has a dinette with double berth and room for a decent galley. On our Wizard we even had an oven. One time we were racing and baked a cake which we duly presented, still warm, to the race committee as we finished. A bit of bribery can't hurt we thought, but unfortunately it didn't work, because they still didn't change our handicap.
Despite the room inside, it still has plenty of space on deck - here's 6 adults and a baby. Note I said "room inside", not "room below". For this is a major difference between a catamaran and a monohull. On a catamaran you go inside, not down below, and you will have all round vision in the cabin.
A favorite place for Jetti to sit
when we are sailing to windward in the rain. I don't understand her at all.
People don't chose to live in a basement, the best apartment is always the penthouse suite
You may be wondering how you get standing headroom on a boat as small as the Wizard. Well it's fitted with a pop-top hatch. That's fairly common I know, but what is unusual is the pop bottom.
This is lowered down, almost to the waterline, when at anchor, and raised when sailing, a bit like a centreboard in reverse I suppose.
OK Back on the speed versus comfort topic
I often compare boats with cars: 6 knots is 60mph, 8 knots is 80, 20 knots is 200. So in reality not many multihulls genuinely sail at 20 knots in flat water. Even more important, not many people are good enough sailors, or even drivers, to travel at that speed. A monohull is like an old car that rattles and shakes at speed. A multihull is like a new car, when it's often hard to judge how fast you are going, it's so comfortable.
So here am I sailing our Strike at 8 knots in the Gulf Islands. Note the amount of wind and the easy steering. For the most important thing is to have a boat that is fun to sail on nice days. On a multihull you are high above the water and away from the gunwales, so the water doesn't fly past just inches away. This means that multihull sailing is much drier than sailing a monohull, but it also means it's hard to judge speed.
Sometimes you don't even need to steer. This is my 25ft Merlin catamaran sailing itself at 7 knots. Because of the boats wide beam we use two telescopic tiller extensions, which take a bit of getting used to as you have to drop one and pick up the other as you tack. Normally these cost about USD80 each, but we used telescoping boathooks instead which cost 12.
And just because it sails hands off it doesn't mean that catamarans won't tack. As you can just about see I like coloured sails. These were fluorescent pink, but I've also had a bright yellow hull with purple sails, and of course a purple hulled boat with a fluorescent yellow sail. This particular Strider was a very light weight boat, we only used 150lbs of glass fibre in the whole boat. My wife and I could easily lift a completed hull. In fact the safety gear we need to carry when racing weighed more than the glass did.
I remember us saying to each other - "we really messed up that tack didn't we!" And of course that was the tack that made it onto film.
The boat's still sailing 25 years later, and still tacking fast. Incidentally this video was taken in front of my house in Cornwall, England, my design office is still there even though I now spend most of my time in the Pacific North West.
And this is that yellow hulled purple sailed boat.
Many people tell me " I don't want a fast boat". So I ask them, "do you want a slow one"? "Oh no" they say. For what people really mean is that they want a boat they can feel safe sailing, which means one that handles predictably. As I say, it's not just about speed.
Having a responsive boat that does what you want, when you want it, is the real difference between boats that sail well and those that don't. In practice, few people buy the fastest car available; rather, most want a car that feels reassuring to drive. Even so, you quickly learn not to drive fast in traffic, in the dark or in bad weather.
No one drives cars like these anymore, even though they were probably going slower than you are when driving down the I40, putting on makeup, or talking on your cell phone, or drinking a coffee.
When cruising, speed must be related to comfort. Just because a multihull sails upright to windward and doesn't roll downwind, it doesn't mean you should always sail one fast. Strangely, some people think that a monohull's heel and drenching spray adds to the fun of sailing.
I'd like to check that theory right now. Let's have a show of hands How many of you like the fun of heeling over and getting spray in your face? OK how many of you women like heeling over and getting spray in your face?
You've probably heard you can put a coffee cup down on a multihull when sailing to windward. Well it's not a coffee cup but watch the bottle of wine on the floor of this 30ft Sagitta catamaran. See, this is all one camera shot, no editing, so no cheating. The camera moves outside and we find we are beating to windward in 25 knots of wind.
It's on one of our first sails in the boat, so the cockpit seats are missing, as are the headlining, the pulpits and lifelines, and it's why the dinghy is on the foredeck and not in davits…You cannot really see but the wind speed is reading 25. Oh, and the wine bottle never did fall over.
In short, on a monohull you tend to sail as fast as possible all the time. On a multihull you only sail as fast as you want to go. In fact the real trick to successful multihull sailing is knowing when to slow down. I've found that peak speeds are about double the average speed. To average 9 knots you'll often do 18 and later you'll swear the log never read below 12.
Banque Populaire has just sailed round the world in 45 days and earlier had sailed over 900 miles in 24 hours. Yet if you read their log you'll see they are always talking about slowing down. An amazing boat, it crossed the Atlantic in well under 4 days at a 33knot average. Compare that to the typical container ship which takes over 5 days.
It's a big boat. It's not 75ft long, it's 75ft wide
The deck space on every multihull is huge when compared to a similar length monohull.
Not only that, but the whole deck area is useable space, whereas on most monohulls you are limited to the windward side. We have a friend who lived on a 60ft trimaran as a child. He learnt to ride his bike in it's cockpit.
This photo was taken in the Black Sea, I haven't been there yet, so I just have to believe the owner who said he went sailing with 20 people on board his 25ft Sango catamaran. That seems a bit overloaded to me but then what do I know? In any event, they didn't report any problems.
Some people complain that they always have to blow up their inflatable whenever they want to use it, as they have nowhere to stow it on deck. So they often don't bother, which means they don't go ashore for the meal they deserve, or explore that secluded anchorage. Of course you can tow a dinghy in good conditions but you risk losing it if the weather turns bad. Regardless of the weather, towing a boat always slows you down. And I bet I'm not the only one who has had a towed dinghy go one side of a moored boat while I've gone the other
But with a small multihull you can keep your dinghy on deck.
This 24ft catamaran was sailed through the Florida Keys by a couple and their two children with both a solid dinghy and a kayak on board. Mind you, you don't use a dinghy much when you can dry out on a beach, although sometimes of course you don't mean to.
This is another clip from my Daysail to Russia video. We had taken our masts down as we had to pass under a low fixed bridge while going through the canals on our trip home. We then found that we had to go out to sea to get from one canal system to another and this was the only part of the whole trip where we had no charts. With the obvious result that we missed the channel
But not by very much. We'd run aground on opposite sides of the channel and were stuck for 8 hours with a gale forecast. That's when we found that the tide goes out a long way in northern Germany.
When sailing a multihull downwind there is no rolling or broaching to worry about, so it's a very relaxing, comfortable way to sail, even when under spinnaker. The wide foredeck trampoline makes it easy to hoist and lower the sail. More important is that there is no spinnaker pole to worry about, the wide beam does the job instead.
When we sailed to the Soviet Union I wanted to show just how much deck space we had on a 24ft catamaran. And what better way to show it than do this??
I've just said how comfortable it is to sail a multihull downwind. From experience I know it's different on a monohull. I remember that, when crewing on a 70ft charter boat in the Caribbean, we once had to close the portholes as the boat was rolling them under water. And we were at anchor at the time.
Even big boats roll more than multihulls. This is bigger than we usually sail, so this video is really just a bit of fun. Keep an eye open for what looks like a piano
Now this is more our size.
Here is a Strider with all sails lowered lying beam on to some choppy seas in about 25 knots of wind. You see it doesn't roll, it just bobs up and down. If you don't want to heave to, but prefer to run off under bare poles then it's still a safe, dry ride even in a gale.
This video shows one of my 26ft catamarans under bare poles, there's not even any spray on deck and of course no rolling. I don't know where it was taken, I'm guessing somewhere in the Mediterranean, and it looks like the cameraman is a singlehander. I've never heard from the owner, I found this clip on youtube just by chance.
Here's a typical catamaran interior.
Sorry, I lied, it's actually ONE of the saloons on the biggest sailing catamaran yet built, which is 140ft long. I read that 17 different types of granite and 16 leather finishes have been used inside. And you thought multihulls had to be kept light? And this is it's galley
well again, one of them, the crew have their own self contained quarters of course. While this is the cabin of a typical 32ft monohull. saloon
Anyone here read Latitudes and Attitudes magazine? Well this is actually Captain Woody's boat when we helped him go through the Panama Canal. That's Woody on the computer. And this is the saloon of my 32ft Eclipse catamaran, taken one Christmas in the Bahamas.
Although I said earlier that trimarans have small interiors, it's still relative, as this photo
of a 31ft racing trimaran with 7 kids shows. Mind you what you can see here is what you get. On the same length catamaran we had three double cabins, a large galley and a big heads, as well as a full size chart table. With 600 square feet of useable space, my Eclipse was bigger than the apartment I have in the UK
And with careful planning you can get good accommodation even with a 3ft wide hull. One advantage of single handing a 4 berth boat is that there is lots of room available. Daysailing to Russia in company meant we always ate together each evening. Usually we had simple meals, even so we ate out fewer than a dozen times in 3 months. This day's meal was more special than most, as earlier that day one of our outboards blew up. "Threw a con-rod" was I believe the official phrase. Very depressing when 1000 miles from home and with 2000 more to go, so we needed cheering up. Engines and electronics were the two big failures of the trip. Both things that I didn't design or build.
Have you ever wanted to tow your sailboat with a 4 cylinder car? It always seems crazy to me to have to buy a bigger car just so you can tow your small boat.
This car has a 1600cc engine, so about the same as a VW Golf, while we towed our Wizard to Holland with our 1900cc car. Mind you, I don't think you can buy cars this small in the US.
Nearly all trailable multihulls weigh under 2000 lbs, our Strike 18 weighs 600 lbs, about half the weight of a Potter 19. So you can safely tow them with a small car. Besides being light in weight, there is no heavy keel that has to be down for stability when sailing, which means easy beaching, and you can even sail on and off a slipway that's on a lee shore. Furthermore, divide it into pieces and then a couple can man-handle the boat. Jetti and I can easily get our Strike off the trailer and onto the ground by ourselves. I remember the struggles my Dad had with our Potter trying to do it all himself, with a bit of hindrance from me.
I know you're thinking "surely with all those hulls, assembly takes a long time?" You have already seen the video of the Skoota unfolding itself. As I said, that's the same system I use on the 22ft Wizard and 25ft Sango.
It's simple and quick and more important, there's no heavy lifting. Many open deck catamarans use a telescopic trailer.
I have assembled, rigged and launched a Strider in 40 minutes after arriving at the boat ramp with one of these. On our last catamaran we used two launching dollies and a flatbed trailer. Mind you we only trailed at the beginning and end of the season.
It would take about an hour and a half to assemble the boat and raise the mast. But we didn't need to put our road trailer in the water, and we could have rented a flat bed trailer for the day, saving cost and storage space.
Trimarans have several different solutions.
Of these the Farrier system is the most successful. The mast can be left up when folded, but it's probably not a good idea to trail the boat like that! Then some trimarans, like the 28ft Dragonfly, swing their outriggers fore and aft
The words aren't that clear. They say: 1 Release folding line rope clutches, outrigger opens due to its buoyancy. 2 Pulling the folding line by hand, it can also be winched out. The trampoline unfolds at the same time. 3 Loading the winch. 4 Closing the folding jammer. 5 Pull up shroud tensioner. 6 Secure safety cable to rear beam. Time to go sailing
And this one
is really neat for a small boat. The video lasts exactly 90 seconds and as you can see it is all one camera shot. How many of you monohull sailors can actually get sailing in that time? I'm currently drawing a boat with a folding system similar to this one, but with a more conventional beach cat style rig. This boat can sail in 4 in of water, you can clearly see the bottom as he sails along. More amazing is that the owner, designer and builder of this boat had never sailed at all just 3 years ago.
On our Strike we fold the outriggers up, rather than down, a much simpler system than the Farrier one. Unfortunately, because of the geometry it won't work on bigger boats.
I've already lowered the starboard hull, while there are only four beam bolt nuts to do up, and nothing needs tensioning. This was only the second time I had ever put the mast up. As you can see the forestay pulls it up while temporary stays stop it falling sideways. I got it a bit more sorted last year. For example, I now use a short pole to hold the mast at shoulder height as I move forward to pull on the forestay. And the mast chocks are now rigid.
A couple of weeks ago we fitted a new furling gear. That makes it a bit too awkward to raise the mast singlehanded but it's really quick with Jetti's help. She does the work, and says its easy, but of course I'm still the one in charge.
The fastest we have de-rigged the boat from sailing up to the beach to having it lashed down on the trailer and driving away is 13 minutes.
Of course I can't talk about multihulls without discussing their safety aspects. Most people worry that a multihull cannot self-right after a knockdown. But, as data from the Coastguard show, very few cruising multihulls do actually capsize. Indeed these days it seems more likely that your monohull's keel will fall off. Like this
And like this
That thing sticking up is a dagger board by the way, the keel itself is missing.
This is what the keel looked like when the boat was owned by Richard Branson. Do you see the forklift truck to the left of the photo so that the builders can get on deck. The keel is the blue thing just to the left of the crane.
And we all know monohulls can sink
The guy on board looks a bit relaxed doesn't he? That's because this isn't actually a boat, rather it's a work of art. So it's not sinking - look.
Apparently it was sold to a banker, who else, for USD80,000. Not bad for a wrecked 22ft boat. Give you ideas??
Your monohull will be the most fun to sail in light winds and flat water. That's because it has a lot of sail so reaches hull speed quickly, doesn't heel and isn't over-pressed, especially downwind.
For there are two ways you can capsize a boat. The first is by having too much sail up in a strong gust and the boat simply gets blown over. So something like this
You have to pity the friend of mine who was on the bow at the time
Or even this
A J22 I think. I'm not showing the whole clip, but it's on you tube, and the scary thing is that the boat stays on its side for over a minute
Multihulls, on the other hand, are generally under-canvassed compared to monohulls; so most need at least a Force 4 to sail at their best. That's why in light winds we tend to use free flying lightweight masthead drifters, or screechers, as multihull sailors call them.
That way if an unexpected gust does hit us the sail simply blows out.
Some people say you can never fly a hull in a multihull as you'll capsize immediately. But if you think about it, you know that isn't true, for we've all seen Hobie cats having fun and safely flying a hull for miles at a time. I'll leave this video playing as I want you to see the last comment
Despite what you might think from the video, this Seacart 30 is still trailable
I've never flown a hull myself in a cruising catamaran, indeed I've never seen anyone else do so. Big multihulls just don't behave in the same way as small ones do. In fact most trailable multihulls behave more like a beach cat in wind gusts, as we have just seen, rather than like a charter cat. So surprisingly, despite their small size, they may actually be safer than bigger boats.
Especially since most small boats are hand steered all the time, whereas many big boats sail on autopilots even under spinnaker. This Sagitta is sailing past Portland Bill, considered the Cape Horn of the English Channel. You can see what I mean about how easy it is to fly a spinnaker when you have no boom to worry about.
This is the same boat as you saw in the wine bottle clip, but now its finished. Notice the cockpit cushions and padded backrests. Think about it, when was the last time you drove a car with wooden seats? A 3hr drive is a long trip in a car, but only a short sail on a boat. Why be uncomfortable for that length of time?
And see what I mean about going inside not down below. The on watch crew still has an all round view, and can even steer using a remote controlled autopilot.
The other way you can capsize is by being rolled over in a big wave. Boats are considered stable in waves that are lower than the beam of the boat. As most daysailing multihulls don't sail in 14ft high waves that means you are pretty safe from capsizing in waves.
Here are a couple of videos to show you, sorry for the video quality
He only just made it, as you can see, and from the angle of heel, he's probably full of water. And then in the same sort of conditions there's this one
Do you see the crewman casually waving at the cameraman? No video, but this is what happens in a small monohull (a Santana 22) in breaking waves
And did this guy come through unscathed?
Personally, I think he still needs rescuing even though the boat self righted.
However, safe sailing is much more than just having ultimate stability. Running aground on a fin keel monohull is a stranding often leading to shipwreck.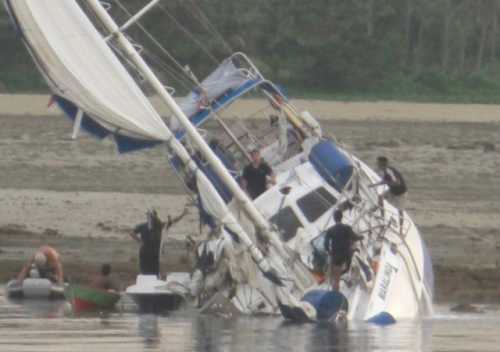 Whereas on a multihull you dry out for fun and have a BBQ on the beach.
Unfortunately, collisions at sea are still regular events. A multihulls watertight bulkheads and lack of ballast mean that even if it is badly holed it won't sink. As I always say, a catamaran is twice as unsinkable as the Titanic. Collisions can happen any time, anywhere.
In the year 2000 I raced a 43ft catamaran, like this one, in the Capetown to Rio race. Half way across the south Atlantic we heard a mayday on the radio. A racing monohull had hit a shipping container and was sinking. It was a catamaran that picked up the crew and took them all safely to port.
While no one wants to end up in this position
Which, thanks to me and my work on the ISO committee, is why the coastguard now insist on level flotation. If a boat doesn't float level then the crew cannot hold on, and so will drown, even if the boat is later recovered.
It's also very much harder to fall overboard on a catamaran, for sail handling and reefing are much simpler on its wide decks. Keeping one's balance is easier, so there's less chance of injury; for, as one catamaran sailor put it, "It's no bruisin' cruisin'." An upright, non rolling, boat also means you are less likely to get seasick. Apart from anything else a seasick crew is an unseaworthy crew.
You may have heard horror stories about multihulls breaking up. So how strong are multihulls? They can be pretty strong!
Hulls can be thin, as I've already indicated. This is a 1/8 in thick plywood hull with a thin layer of glass.
Seems strong enough to me. Hey, I've got a hammer. Anyone volunteer their boat for me to test??
Even the bottom of our 32ft fiberglass ocean cruiser Eclipse was only 1/8in thick. A multihull doesn't need to have a thick hull, in part because the rig loads are taken by the beams, while of course there's no heavy keel to support. Instead of the keel and its attachment, it's the crossbeams that are the most important structural part of a multihull.
Fortunately you don't need to go to sea to find out how strong they are. Look carefully at this photo of our Merlin
You can see that the back of the port hull is not touching the trailer. The bow is on the ground, but the hull is held up by the crossbeam attached to the starboard hull. The hull is completely suspended for all 25ft of it's length. That's a much higher load than you ever get when sailing, yet the beam still doesn't bend, even though it is 16ft long.
Finally on the safety aspects of multihulls, few people like going down to the lee side to see behind the genoa; indeed I find sailing half blind one of the more scary aspects of monohull sailing.
It's not like that on a catamaran, in part because it sails upright.
Unfortunately when you cannot see where you are going, this sort of thing happens
Compared to a similar length monohull a multihull will usually cost you more. But if you compare price to useable space, comfort and speed, a multihull is the easy winner. Yes, the variety of multihull designs can be confusing, and there are many features to consider when choosing one
But the bottom line is that boats are for sailing and for enjoying out on the water. No one goes sailing to be miserable, wet, cold, uncomfortable or frightened.
That's why I sail multihulls, and that is why I say multihull sailors have more fun!
Thank you